Overview of Services
The Biological Mass Spectrometry facility provides specialized MS services to the University of Michigan research community. The major areas of focus of the lab are:
Analysis of intact proteins, multi-protein complexes, and protein structure.
Identification and purification of compounds from complex mixtures coupled with quantitative analysis.
Purification using mass directed autopurification liquid chromatography.
Users can be trained on the instruments for walk-up use or samples can be submitted for analysis.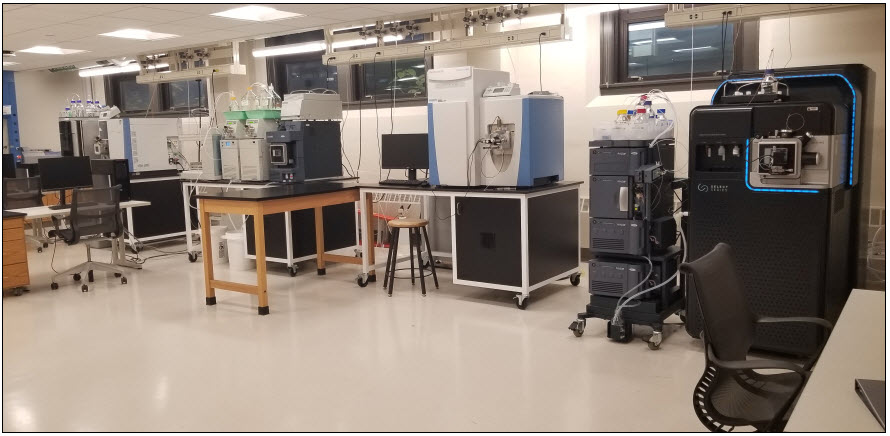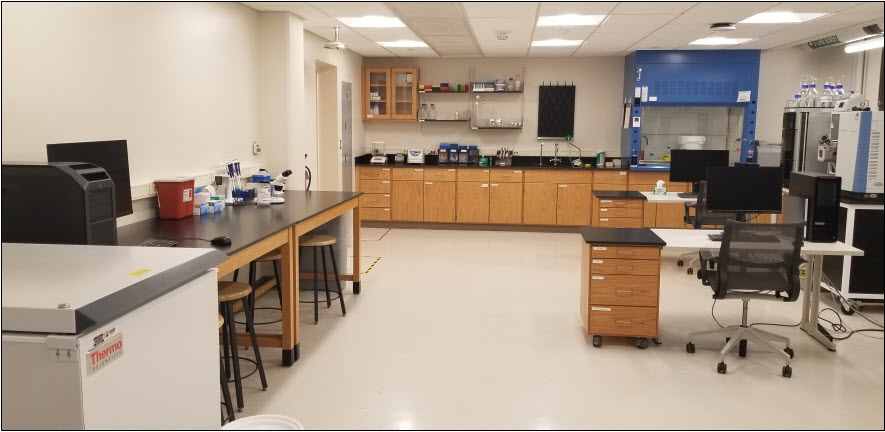 How to Schedule
For trained users, use shedule equipment tab to select instrument, day, time and usage type.
All other users, use request services tab to start a service or project request.
Leadership
| | | | |
| --- | --- | --- | --- |
| Carmen Dunbar, PhD | Managing Director | 734-647-2878 | carmdun@umich.edu |
Location and hours of operation
Hours
Location

Staffed Mon - Fri 8:00 AM - 5:00 PM

Room A525
930 N. University
Ann Arbor, MI 48109
Links and Resources
Search available services:

View: by category alphabetically
►

Intact Mass (1)
Name
Description
Price

Small Molecule Infusion

Direct infusion using standard ESI on TSQ-Quantis.

Internal

$29.00 /hr




External

$87.00 Sample




►

LC-MS (3)
Name
Description
Price

LC-MS

LC separation followed by MS analysis on TSQ-Quantis

Internal

$23.00 /hr




External

$69.00 /hr




Preparative LC-MS

LC purification and fraction collection using mass directed Waters autopurification system.

Internal

$39.00 /hr




External

$117.00 /hr




Method Development

For those looking to develope any LC based method.

Internal

$33.00 /hr




External

$99.00 /hr




►

Native Mass Spec (3)
Name
Description
Price

Native Nano-ESI MS

Using QE UHMR analysis in native conditions using nano ESI.

Internal

$47.00 Sample




External

$141.00 Sample




Native MS

Using QE UHMR analysis under native conditions using standard ESI.

Internal

$44.00 Sample




External

$132.00 Sample




Charge Detection Mass Spectrometry (CDMS)

Using Q-Exactive UHMR charge detection mass spectrometry for intact mass analysis of molecules >200kDa.

Internal

$47.00 Sample




External

$141.00 Sample




►

Ion Mobility (4)
Name
Description
Price

Nano-ESI IM-MS (infusion)

Cyclic IM-MS direct infusion using nano ESI

Internal

$37.00 /hr




External

$111.00 /hr




Nano-ESI LC-IM-MS

LC separation coupled with Cyclic IM-MS using nano ESI

Internal

$31.00 /hr




External

$93.00 /hr




IM-MS (infusion)

Cyclic IM-MS direct infusion using standard ESI

Internal

$35.00 /hr




External

$105.00 /hr




LC IM-MS

LC separation coupled with Cyclic IM-MS.

Internal

$29.00 /hr




External

$87.00 /hr